Sunday, December 6, 2015 6P | The Kennedy Center, Terrace Theater
During the 1990s, DJs Stretch and Bobbito introduced the world to an unsigned Nas, Biggie, Wu-Tang, and Big Pun, as well as an unknown Jay Z, Eminem, and the Fugees. The total record sales for all the artists that premiered on their show exceed 300 million. The late-night program had a cult following in the art/fashion world and prison population as well. All would loyally tune in for the offbeat humor just as much for the exclusive tunes. Stretch and Bobbito brought a unique audience together, and created a platform that changed music forever.
powered by HedRush and The Kennedy Center's One Mic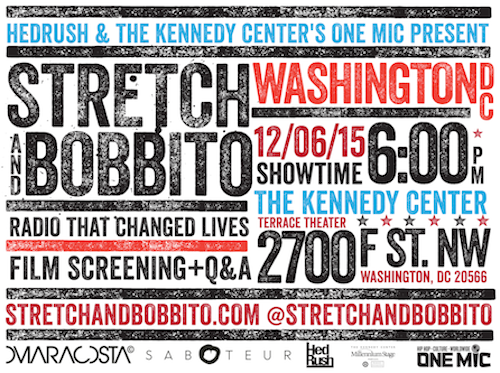 Free general admission tickets will be distributed in the States Gallery [Terrace Level] starting at approximately 5:30 p.m., up to 2 tickets per person. A capacity audience is anticipated. Patrons are requested to enter the Kennedy Center through the Hall of States and proceed to the Terrace Theater via the Hall of States elevators. This program contains strong language.
Info & Inquiries | info@hedrushmusic.com
- - - -
Thanks for your support of Art and Culture
Hedrush